Main Content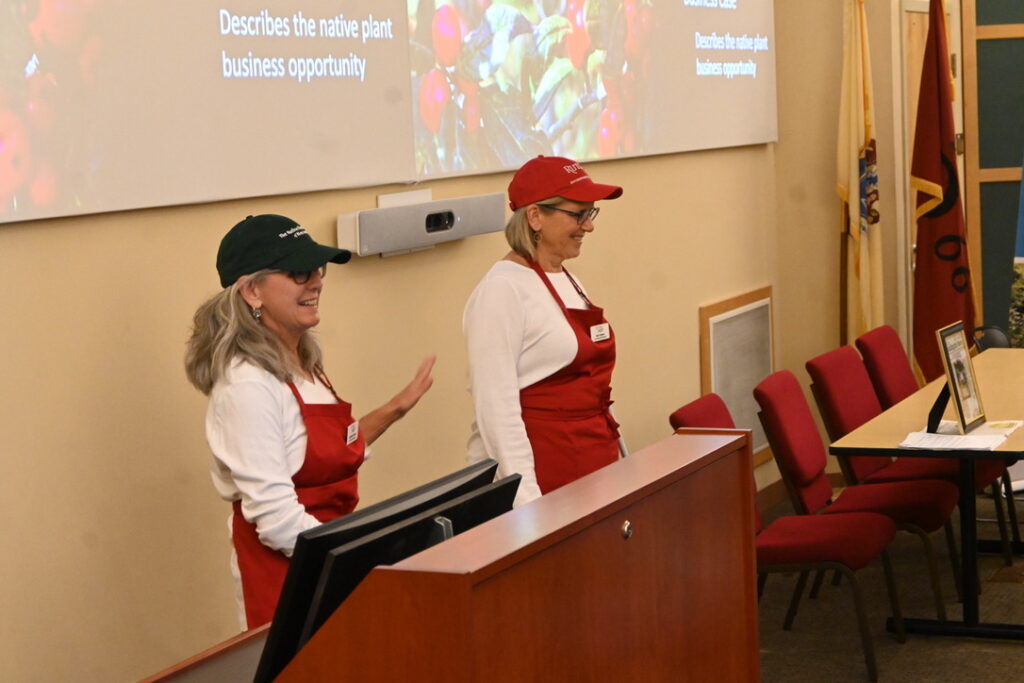 41 new volunteers were certified as Rutgers Environmental Stewards on Saturday October 28, having each completed a project that helped address an environmental issue in their community. These volunteers partnered with 48 organizations across the state educating close to 4,000 people on pressing issues such as climate change, habitat conservation, water quality protection, and reducing waste. Collectively, in 2023 Steward volunteers contributed close to $200,000 in conservation value to partnership projects and improved 48 acres of land through invasive species management, planting native plants, and providing wildlife habitat. 
The Impact Summit is our program's annual conference, and we turn the podium over to the Stewards to share their work with their peers. Stewards present on the results of their projects either during a 5-minute lightning round, or during the poster session. In this way volunteers gain valuable public speaking experience in front of a friendly audience. For some, this may be the first time they are speaking in public about an environmental issue and gaining that confidence is critical for enabling them to move forward and promote science-based policy.
Examples of 2023 Environmental Steward projects include:
Samina Ali who collaborated with local drugstore Boyt Drugs, the Garden Club of Metuchen, the Metuchen Public Library, and 22 community volunteers who transformed a 600 square feet weedy strip of dirt in the Boyt Drugs parking lot into native plant habitat. From this project a native community seed library was born.
Sharonda Allen and Shannon Murphy teamed up to focus on the United Nation's Sustainable Development goals and underserved communities. They created accessibility for multi-abilities residents in the Parkside community of Somerset, NJ for better access to their gardens. They also revitalized the Healing Sanctuary Garden that belongs to STEAAM Urban in Newark, NJ.
Henry Bayard and Wendy Utberg volunteered as a team assisting the Raritan Headwaters Association with restoration efforts in partnership with the Natural Resource Trustee Council overseeing damages in connection to the Cornell-Dubilier Electronics Superfund Site. They monitored four sites to collect baseline data that will be used to inform dam removal feasibility studies.
Carol Ann Murphy saw a need to improve accessibility to birding and nature in her Ocean and Monmouth communities so she combined her experience in disability rehabilitation research and love of birding to drive change. Her project utilized the resources of BirdAbility, a nonprofit that partners with National Audubon to use crowd-sourced contributions to promote birding for all. Through the BirdAbility Map, factors affecting access for racial and gender-based minorities and individuals with sensory and cognitive disabilities were identified.
Carla Rodrigo Herrera worked to educate the Hispanic community on invasive plants impacting our forest ecosystems. She trained with theWatchung Reservation Invasive Species Strike Team and translated Union County's "Plant This Not That" brochure into Spanish. Carla prepared a Spanish presentation and spoke as part of "Latino Conservation Week", in Warren County at a community event designed to educate the Spanish speaking community about environmental issues.
Read about other Environmental Steward projects by downloading our program.