Main Content

Last month, much of the Northeastern United States was blanketed in a thick haze of smoke for several days due to Canadian wildfires. While it is not unusual for Canada to have wildfires, this year's warm and dry winter led to an unprecedented number of wildfires burning across Canada and not just in the west where the fires are typically concentrated. Many wildfires are natural, but the Canadian fire season is lasting longer than usual due to rising temperatures and dry conditions. Climate change is causing warmer temperatures leading to more days with low humidity and strong winds, which are perfect conditions for wildfires to start and spread quickly. 
The northeast may be seeing more of these wildfire smoke air quality episodes in the near future and it's important that all of us are prepared to protect our health. The number of wildfires and their proximity to the eastern part of the United States added high concentrations of fine particles to the air in New Jersey and other northeastern states. New Jersey saw several days of hazy, otherworldly conditions with poor visibility and health risks. The wildfire smoke did not dissipate as quickly as it normally would have in our area due to a stalled pressure front keeping the air stagnant with a lack of air movement or rainfall.  
The technical term for the fine particles from the smoke is "particulate matter 2.5 or PM2.5", referring to particles that are smaller than 2.5 microns in width. The particle size threshold is important because particles smaller than 2.5 microns can travel deep into the respiratory tract and can be deposited in the lungs. Once in the lungs, the particles can impact the respiratory system and cardiovascular functions through the blood, which is detrimental to those with existing health conditions such as heart disease or asthma. Even for those without health issues, the exposure to fine particles could lead to headaches, dizziness, eye/nose/throat irritation, and coughing.
The Air Quality Index (AQI) is the United State Environmental Protection Agency's air quality reporting tool. Real-time conditions are monitored for five major air pollutants: carbon monoxide, ground-level ozone, nitrogen dioxide, particle pollution, and sulfur dioxide. The index ranges from 0 – 500, with 500 being the poorest air quality and the most hazardous to human health. The website, www.airnow.gov , shows concentrations for the two highest AQI contaminants at any location based on local monitoring networks. The index interprets the data to tell people if air quality is good, moderate, unhealthy for sensitive groups, unhealthy, very unhealthy, or hazardous. During the wildfire episode in June, New Jersey's air quality was well into the hazardous range (300+) for particle pollution. This website can be used by the public to make decisions about activities during low air quality events.
Here are some steps that can be taken to protect your health when air quality is low:
Stay indoors – this will reduce your exposure to fine particles
Reduce activity levels – the heavier you breathe, the more fine particles will enter your body
Keep windows closed – this will reduce exposure, but may raise the indoor temperature during warmer months
Consider running the air conditioner with HEPA filters to remove as many particles as possible
Consider an air cleaner for the room you will be spending the most time in – this is a machine that removes fine particles from indoor air
When driving, keep the air on circulate rather than taking in external air
A N95 or KN95 medical mask can provide some protection, but consider wearing a respirator if you must work or exercise outdoors.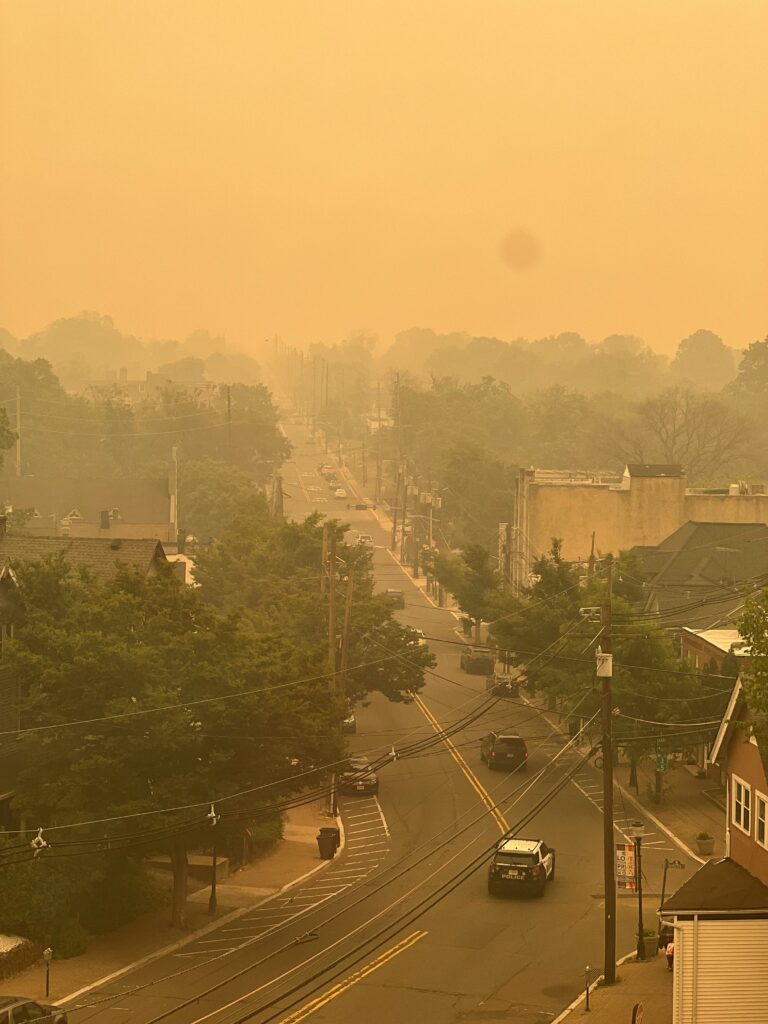 New York City Mayor Eric Adams commented after the June 6, 2023, episode, "Climate change has accelerated these conditions. We must continue to draw down emissions, improve air quality, and build resiliency." Wildfire smoke air quality episodes are likely to occur more often due to climate change's warming temperatures, dry conditions, and strong winds. Learning how to protect ourselves from the health risks associated with them will help us be prepared for these future incidents.
Resources: